225 MAGAZINE  |  
OCTOBER 25, 2017
While it may be sporting a new look, one of Baton Rouge's original pizza joints is going back to its roots.
Rotolo's Craft and Crust, the newly opened venture from Rotolo's Pizzeria at 411 Ben Hur Road, is a return to the eatery's beginnings in the '90s, says vice president of marketing and brand development Christina Bourg.
The approach targets students and families with a simpler, pared-down concept—a walk-up slice bar, open patio, revamped menu and full bar with 36 brews, two wines and two signature cocktails. The neon-lit sign on the brick wall sums up the philosophy perfectly: "Good food. Good vibes. No Bullsh*t."
While expanding into areas of the South where Rotolo's didn't have the same brand recognition, the company realized it couldn't articulate to new audiences why it was different, Bourg says. The evolving look of the new franchises didn't represent who they once were, which led to a rebranding effort to bring the store back to its roots.
The Rotolo's team want to emanate a laid-back, come-as-you-are atmosphere, and with Craft and Crust—the only one of its kind in the Rotolo's family—they plan to model future locations off of it, she says.
"Changing the name changes the perception," Bourg says. "We don't ever want to be stuffy. We're in jeans making pizza, and that's a much better representation of Rotolo's brand."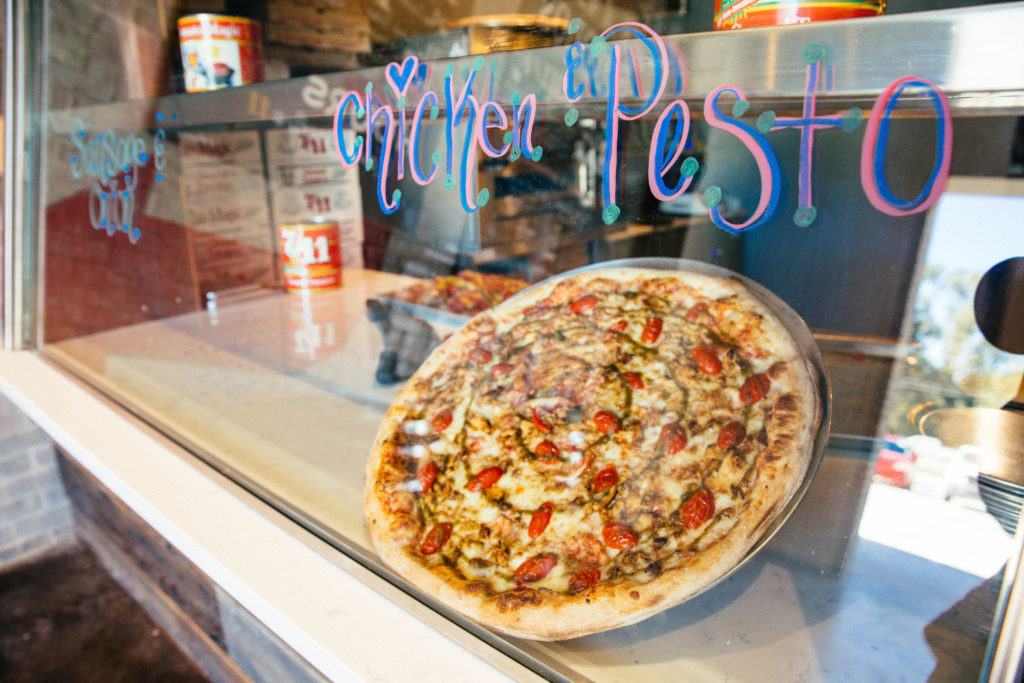 The eatery is elevating its product through simple, fresh ingredients for bold flavor combinations, says head chef Mitch Rotolo Jr. The menu showcases signature pies featuring topping combinations inspired by his travels to Italy.
The addition of the slice bar is meant to alter the misconception that pizza isn't a lunchtime food, Bourg says. Open 11 a.m.-3 p.m. and 9 p.m.-close, the slice bar allows customers to pay by weight and try the variety of flavors Rotolo's offers.
Mitch grew up in the original restaurant on Bob Pettit Boulevard, opened in 1996, and will use the new location as his test kitchen—a space to try new styles, experiment with pairings and see which menu items customers favor.  He'll also serve pies with an artisan flare, like the Sicilian pizza and classic deep-dish Chicago and New York-style pizza.
The interior of the store features warm tones, with wooden booths, tables and chairs and exposed brick walls sporting handpainted murals, with sayings like "Pizza for the People," "In Pizza We Trust" and "A slice a day keeps the sad away." One wall features Rotolo's memorabilia, including Mitch Jr.'s pizza-making awards, like his title of 2016 World Pizza Champion for "fastest dough," the first Rotolo's cup from the original store and vintage photos of founder Mitch Rotolo Sr. Another wall features cabinets storing items such as the custom-designed sauce cans each labeled with the name of one of the five Rotolo children.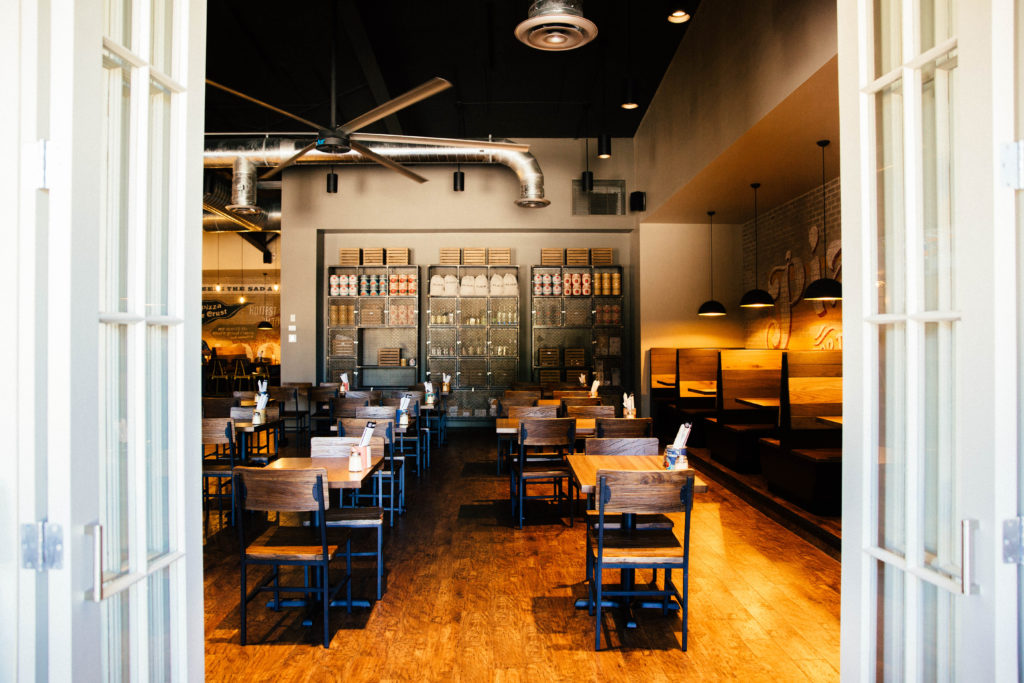 It's the little touches that make the space feel personal, such as stickers from local brands and creatives that dot the backs of clipboard menus. The bartop was handmade with 200-year-old sinker cypress by Southern Wood out of Madisonville, while the hand-painted outdoor chalk menu was done by Ashlee Jones of New Orleans-based Smallchalk, whose work can also be seen at The Ruby Slipper Cafe.
"We chose every element to make you want to stay a while," Bourg says. "It was really important to find ways to do that so it feels local in every place."
Rotolo's Craft and Crust is open 11 a.m.-11 p.m. Sunday-Thursday and 11-2 a.m. Friday-Saturday.
---